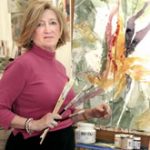 Born in Eden, North Carolina, Dani Roach trained at Ringling College of Art and Design, majoring in Fine Arts. Beginning her career in oil painting on canvas, she subsequently refined her own visual and conceptual vocabulary and transitioned to more experimental subject matter and materials.
Dani Roach's work can be found in a myriad of private art collections and has been seen in numerous exhibitions. She currently lives in Tiburon, California and works in her art studio located in an historic section of Sausalito, California.
Artist Statement:
All of who I am and where I came from is woven into my work. I thrive on being an experimental artist. My paintings on plexi-glass are a distinctive exploration as are my experimental sculptures. Having grown up in the South and being very much a Southerner, I bring an interesting mixture of influence from my Southern and California experiences to my conceptual work.